OUWB Medical Library services are available to faculty, staff and students of OUWB. Our medical librarians are available to provide research assistance/consultation, expert literature searches, curriculum support, integrated course/session instruction, systematic review projects, grant management support, and more.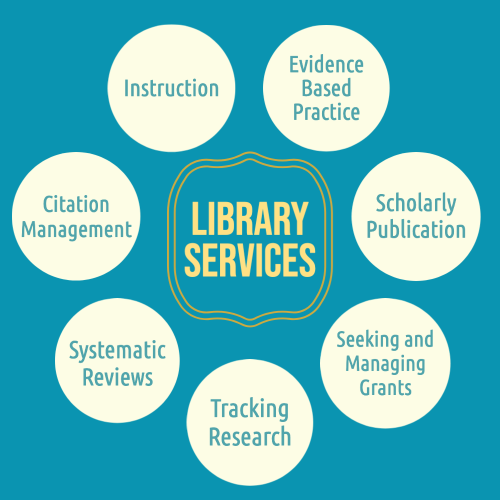 ---
Citation Management
OUWB Medical Library supports use of citation management tools, including Zotero, EndNote, Mendeley and RefWorks (discontinued in June of 2023).
We can help you:
Provide training in the use of citation management programs
Provide access to EndNote on our iMacs in the collaborative study room or on a Macbook available for a 3 week loan in the Medical Library office
---
Evidence Based Practice
Our trained information professionals provide expert searching to help you locate evidence based medicine (EBM) materials.

Assistance with information searching
We offer large-group, small-group, and individual instructional sessions on how to perform EBM searches across a wide variety of resources to help you locate relevant information from scholarly journals, databases, e-books, conference materials, statistics, grey literature, and other data and electronic resources.

---
Scholarly Publication
Our librarians help you identify different types of journals (subscription-based or open access) for article submission. We also provide advice on copyright and plagiarism issues.
---
Seeking and Managing Grants
OUWB medical librarians assist researchers in finding federal and private funding opportunities, and consult about tools used to create and update an NIH Biosketch and professional profile tools that organize and manage faculty research efforts/output (e.g. ORCID, SciENcv).
---
Systematic Reviews
OUWB medical librarians provide consultation and assistance through all steps of conducting a systematic review, including an initial consultation, developing and conducting comprehensive literature searches, writing up methods for systematic reviews or participating as a review team member on systematic review projects. Contact us at the beginning phase of your project to ensure sufficient time to review and refine your review question, determine the review type, and perform the literature searches and other tasks.
We also provide access to Covidence to assist with article screening and data extraction. Please contact Dr. Misa Mi for questions or assistance with the use of Covidence.
To use Covidence through our library subscription, please create an account with Covidence using your OU email address.

Please review Getting Started with Covidence if you wish to view the videos on using Covidience for conducting a systematic review and our Covidence Guide to get you started.
---
Tracking Research
OUWB medical librarians are available to help OUWB-affiliated researchers demonstrate their research productivity and research impact via the use of citation analysis tools and research impact tools.

We can teach you:
How to use Scopus to find metrics such as a journal's impact factor, an author's h-index, or an article's citation history.
How to organize and manage your research via the use of researcher profile tools like ORCID and NIH Biosketch