Location
The Medical Library is located on the first floor of Kresge Library.
OUWB School of Medicine Library
100 Library Dr
130 Kresge Library
Rochester, MI 48209-4479
Phone: (248) 370-3772
Fax: (248) 370-4302
Floor Map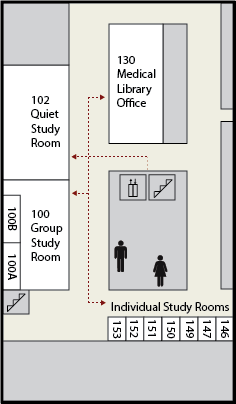 Study Spaces
The Medical Library study spaces are available to OUWB students 24 hours a day, 7 days a week (depending on Kresge Library's hours).
Access to the Medical Library study spaces requires an Oakland University ID card.
KL 100: Group Study
Mixed seating

Movable lounge chairs with side tables
Cafe-style standing tables
Traditional worktables and chairs

Apple TV–equipped monitors for collaboration and presentation
Two breakout rooms suitable for medium-sized groups
Two Apple iMacs loaded with study tools and statistics software (details)
Student printers
KL 102: Quiet Study
28 carrels for individual study
Two copies of all required and recommended textbooks (for in-house use)
USMLE collection (for in-house use)
KL 146–153: Individual Study Rooms
Private study space suitable for one or two students
Large whiteboards for diagrams and drawings
Medical Library Office
Medical Librarians available for help, research consultations, etc.
iPad and graphical drawing tablet for checkout (details)